For a video tutorial of this step, see the bottom of this page.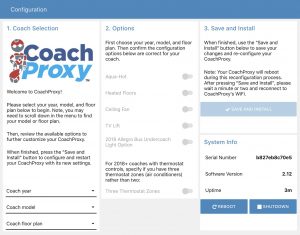 When connecting to CoachProxy for the first time, you will need to configure it for your coach.
Select your Tiffin year, model, and floor plan. You may need to scroll within each menu to find your choice.
Select any options that affect CoachProxy, such as heated floors or Aqua-Hot. Some options may be pre-selected, and some may not be relevant for your coach.
Choose "Save and Install" to reconfigure CoachProxy for your coach.
Once CoachProxy has restarted, you can reconnect and start controlling your coach!
Important: CoachProxy will restart during the "Save and Install" process. This will cause your computer or mobile device to disconnect from the "CoachProxy_xxxxxx" Wi-Fi network. Once CoachProxy has finished restarting in about two minutes, you must reconnect to CoachProxy's Wi-Fi network to continue!
Next, you should change CoachProxy's WiFi settings.
---