Current Software Version: 1.4
Note: This process requires the ability to write to a microSD card. This can be achieved with a USB Card reader, or by using a microSD to SD adapter and an existing SD card slot on your computer.
---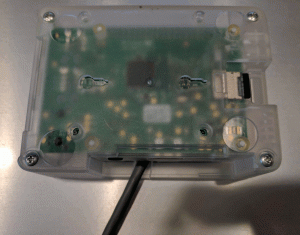 Download the latest version of CoachProxy (please use the Contact Us page to request the link for your Coach)
Note: Please compare your in-use software version ( Available from the 'System' pane within CoachProxy ) to the 'Current Software Version' at the top of this article. If they match, no need to update.
Unzip the upgraded image (the resulting file will be about 4gb and end with .img file extension).
Unplug CoachProxy from the SpyderControls network.
Remove the microSD card from CoachProxy

If you are looking at the bottom of the CoachProxy, the microSD card will be in a recess opposite the USB and Network ports
The microSD card simply pulls out. Tweezers or something similar may help remove the card.

Flash the microSD card using the procedure for your operating system:
Once the image is written to the microSD card, re-insert it into the CoachProxy

Note that if viewing the CoachProxy upside down, the label of the microSD card will be toward you, and the pins toward the CoachProxy board.

When you plug the device into your Coach, you'll need to re-configure your device as new using our Quick Start guide.
---
Please wait at least two minutes and then connect to CoachProxy directly to reconfigure.