Where do I install CoachProxy?
Find a place to plug in CoachProxy unit. You are plugging in a connector that can only be inserting one way. So don't worry, find an open port and just plug it in. Suggested locations in order of preference:

Inside the passenger side console (beside the passenger captain's chair)
Behind the refrigerator exterior access panel
Directly into the Spyder Controls House Panel (usually inside at the rear of the coach)
Directly into the Spyder Controls Chassis Panel (usually inside the front bay under the driver's seat)

a) Inside Passenger Side Console

c) Behind Spyder Controls House Panel

d) Spyder Controls Chassis Panel

Relax, it plugs right in.

Wait about 2 minutes for CoachProxy to fully start up.
How do I connect to CoachProxy?
After installing CoachProxy, allow about 2 minutes for it to fully boot the first time.
Connect to the CoachProxy Wi-Fi network
Wi-Fi Name: CoachProxy_xxxxxx
Wi-Fi Password: coachproxy01
Open your web browser and type in 192.168.41.1 and press enter or go.
CoachProxy should load right up and you can control your coach!
Don't stop now! Keep reading and change CoachProxy's WiFi settings.
Change your CoachProxy Direct Wi-Fi settings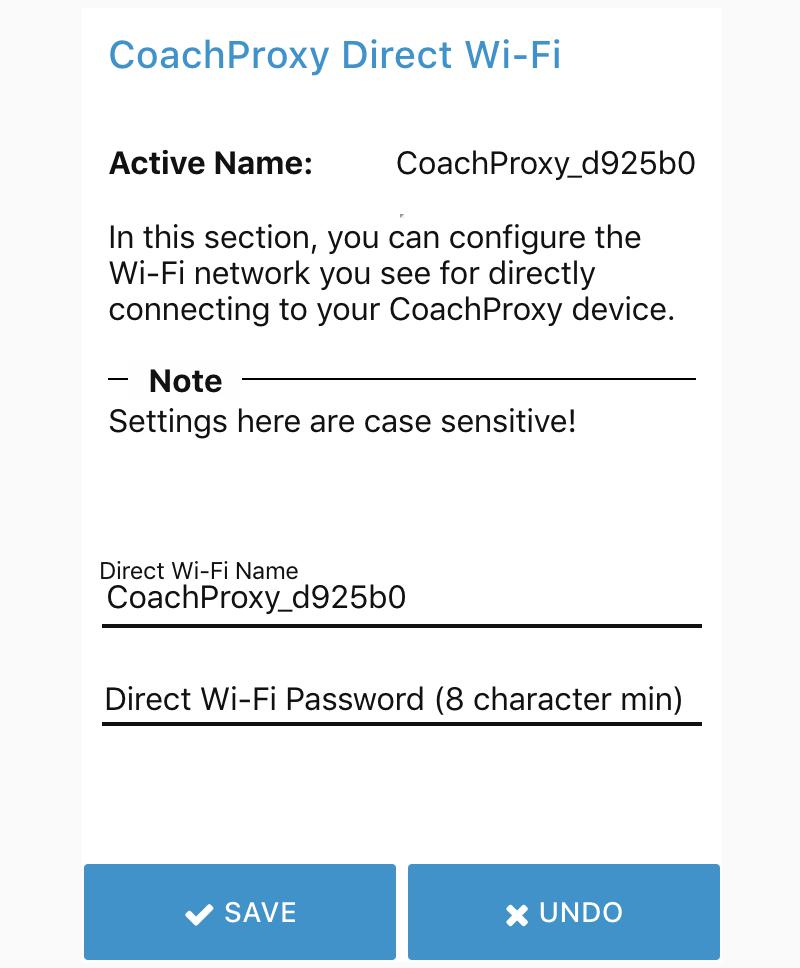 This is an important step as it will prevent others from connecting to your CoachProxy and controlling your coach.
After installation, Connect to CoachProxy and Touch / Click on the top left Menu (three horizontal bars), go to the System panel and look for 'CoachProxy Direct Wi-Fi' section. (Not to be confused with 'Join Your Wi-Fi')
Update the Wi-Fi name and Password areas to suit your desired values
Touch / Click on the Save button at the bottom of the section.
NOTE: You will be disconnected from CoachProxy and will need to re-connect using the new Wi-Fi name and password you've just set. If you forget what this is, you can reset your CoachProxy to defaults.
Do you already have your own WiFi network in your coach? Keep reading and connect CoachProxy to your Wi-Fi network.
Connect CoachProxy to Your Wi-Fi Network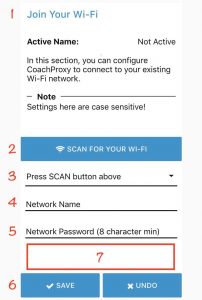 If you have an existing Wi-Fi network in your coach, usually via a router or hotspot, you can connect CoachProxy to your network. This is preferred over connecting directly to CoachProxy's network, and is required for using CoachProxy's remote access service.
Connect to CoachProxy's Wi-Fi network and select the Menu button (three horizontal lines in the top-left),  choose the 'System' panel, and look for the 'Join Your Wi-Fi' section.
Press the blue 'Scan for your Wi-Fi' button and wait a few seconds for the scan to run.
Select your Wi-Fi network from the menu under the blue button. This should copy your network into the 'Network Name' area below.
If your network is not in the list, you can manually type it into the 'Network Name' area.
Note: The Wi-Fi Network Name is case sensitive!
Enter your Wi-Fi network's Password into the 'Network Password' area.
Note: The Wi-Fi Network Password is case sensitive!
Select the 'Save' button at the bottom of the section.
Watch the screen for status messages as CoachProxy attempts to connect for any issues.
Note: Your Wi-Fi may disconnect while CoachProxy updates its settings. If this happens, you will miss some status messages until you re-connect to CoachProxy's network!
Once connected, CoachProxy will provide the IP address your network gave CoachProxy.
Connect your Phone, Tablet or Computer back to your existing Wi-Fi network (not the CoachProxy Direct Wi-Fi network).
Type in the IP address that was provided by CoachProxy into the web browser.
After a few seconds, CoachProxy should be displayed.
Bookmark the local CoachProxy page for easy access in the future.
Note: If your CoachProxy or your Wi-Fi router / hotspot are turned off for more than a day, CoachProxy's assigned IP address may be different the next time it connects, and your bookmark will no longer work. To prevent this, most routers and hotspots have an option to assign a permanent (also called 'static') address that will not change. Since every router is different, you will need to check your router or hotspot's instructions to locate and enable this setting for CoachProxy if you encounter this situation.
Setup Remote Access Service
Be sure your CoachProxy device is connected to a network that has Internet access.
Connect to CoachProxy and Touch / Click on the top left Menu (three horizontal bars),  go to the System panel.
Under the 'Network Information' section, look for 'Remote Access Capable'.
Note: If 'Remote Access Capable' is 'No', please check your settings and try again.
If 'Remote Access Capable' is 'Yes', purchase the 'Remote Access Service'
During the purchase process, you will need to input the Serial Number of your CoachProxy device.  This is located on the System panel of your CoachProxy device directly above the 'Reboot' button.
After you've completed the Checkout process, please go to your 'Subscriptions' page.
Click on the 'Update CoachProxy Link' button
Confirm your CoachProxy Serial Number is correct, and provide the 'MyURL Path' and 'Authentication Code' you'd like to use.
Click 'Update'
Your new MyPath URL will be active within 60 seconds.  A link to the active path is provided both on the 'Subscriptions' page, as well as the 'Link your CoachProxy' section.
Please test your new link after a minute by entering in the URL you just created.
After authenticating, your CoachProxy interface should be visible!
Please save a link to this page as your new desktop link for easy access.
Details on how to do this can be found by doing a Google search on 'How to create a website link on my desktop'
Suggestion:
– In order to conserve data on your internet plan, you may wish to create two links on your desktop:
One for when you're at home and can use the local network address.
Aother for when you're away from home and can utilize the 'Remote Access' service.
Reset CoachProxy to Factory Defaults
Go to a Spyder control panel that has a 'Panel Lights' button. (Bathroom panels, Bedroom panel, Entry door panel)
Starting with the Panel Lights ON, press the Panel Lights button 5 times within 3 seconds. (Off, On, Off, On, Off)
The panel light will blink once to confirm the command was received, then twice more immediately before the CoachProxy reboots with Factory default values.
Please wait at least two minutes and then connect to CoachProxy directly to reconfigure.