CoachProxy is a simple, intelligent interface for monitoring and operating your 2015 or newer Tiffin motorhome from any web browser. Whether from your phone, tablet or computer, CoachProxy is usable from anywhere you may be! CoachProxy allows rapid access to practically every feature of your Coach that is on the Spyder Controls Multiplex System.
---
What does it do?
CoachProxy a simple plug-and-play device that your coach sees as another keypad—but with so much more to offer.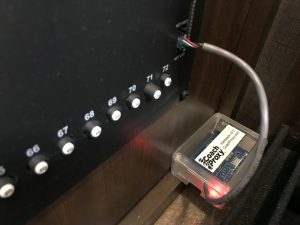 Control

Control lighting, fans, thermostats, locks, shades, generator, and more from inside and outside of your motorhome. Even directly set the levels on your coach's dimmable lights. No more need to hold down the light's button to set brightness.*

Notifications

Receive e-mail notifications when you're away if holding tanks get too full, your battery voltage gets too low, or even if you lose shore power.*

Made by Coach Owners

CoachProxy came from a desire. It was made by motorcoach owners, for motorcoach owners, to enhance the technology and functionality in our Tiffin motorhomes.

Take it with you

Bought CoachProxy and are now upgrading to a new Tiffin coach? No problem! Simply take your CoachProxy with you to your new coach and contact us for a software update to match the features in your new coach.

Honest business practices

Founded on old school practices where we treat our customers like we'd want to be treated. The Golden Rule.
*Controls and notifications only work for items present on the Spyder Controls Multiplex system in your coach. For example, if thermostat settings are not present on a Spyder Controls panel in your coach, CoachProxy will not be able to control your thermostats either. If shore power voltage readings are not present on your Spyder Controls screens, notifications for loss of shore power will not be possible. Please refer to our Feature Compatibility page to see what will and won't work on your motorhome.
Will it work on my motorhome?
CoachProxy works on any 2015 or newer Tiffin motorhome. However, what can be controlled varies significantly from year to year and model to model. Please review our Feature Compatibility page to see what will and won't work on your motorhome.
Also, the way CoachProxy plugs into your motorhome varies from model to model. Some models, especially the Open Road and Allegro RED, may require an additional 4-port Spyder network hub and cable in order to install CoachProxy. The photo above shows CoachProxy installed in a 2018 Phaeton's rear closet. The video below demonstrates installing CoachProxy inside the passenger seat console of of an Allegro Bus.
---
What Others are Saying…
Wow, Just WOW. It gave me just the control I was looking for in our Tiffin. CoachProxy is just…well…WOW!
— J. Andrews
I really thought you were kidding when you said you just plug it in and connect to it. Well turns out you were not. Within 5 mins of opening the beta unit, I was actually controlling our coach. Outstanding job and it is not even done yet!
— J. Rogers
Everything works perfectly! The configuration of the shades to allow each one to be controlled separately is super. My wife really likes it much better now as she works from the rv on trips and she can taylor the rv lighting for what she is doing. This is a super device for me as I can not read the text on the spyder panel very well because the lettering is blue and I just can't see blue tinted letters very well. Once again I want to thank you very much for your help with CoachProxy and I tell everyone I know in the Tiffin club how much we like this rv option.
— Roger B.
Have CoachProxy installed on my 2018 Allegro Bus. On a scale of 1 to 10 I would rate this system an 11. When I am sitting outside the coach or in my house I can control any system in the coach that is on the spider system. If you own a 2015 or newer Tiffin this is one add-on you shouldn't be without.
— Richard B.
At first I thought my husband was nuts for wanting something to control our lights from our phones. And even being a non-techie it is something that is a must have in any coach we own.
— B. Andrews