That's a great attention-getting headline, but before I get to "the good stuff", I have to take a moment to tip my hat to the amazing work Michael Kidd has done in creating CoachProxy, and in helping me get up to speed on the hardware, software, and business aspects of the project. His #1 goal has been to ensure that CoachProxy lives on and continues to be available to motorhome owners at a reasonable price. We both view CoachProxy as filling a surprising technology gap that still exists from Tiffin and other manufacturers, and I'm thrilled to have the opportunity to continue serving CoachProxy customers going forward.
Now, on to the news…
Wait list and deliveries
I'm excited to report that last week we resumed CoachProxy shipments to customers on our wait list! There are quite a few people on the wait list dating back to October 2017, so to ensure fairness we've been contacting people in the order that they joined the wait list. We have enough CoachProxy units built right now to catch up on October, November, and some December wait list customers. But don't worry, we have a big new shipment of parts arriving in less than two weeks that will enable us to build enough units to satisfy everyone on the wait list, and have units to spare!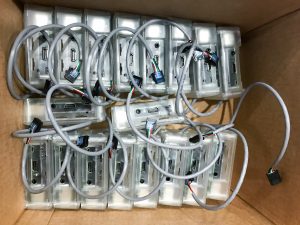 CoachProxy 2.0 and 2018 Tiffin features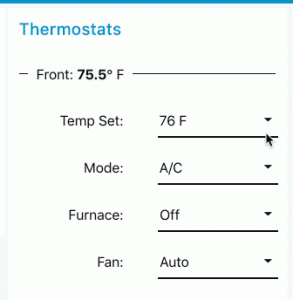 As Michael discussed in his previous news update, there are some big changes in CoachProxy 2.0, including support for some new 2018 Tiffin features. One of the most long-awaited improvements arrived in 2018 coaches: Tiffin has replaced the clunky old RVComfort thermostats with all-digital, Spyder controlled thermostats! It wasn't long before we had CoachProxy controlling nearly all the features of the HVAC system. It's now possible to choose heat/cool mode, heat pump vs. furnace, fan mode, and each temperature set point. Yes, you can now turn on your air conditioner and monitor your indoor temperature remotely, if you have a 2018 Tiffin and CoachProxy's Remote Access service!
Another great addition to the Spyder network in 2018 is the Surge Guard Automatic Transfer Switch, or ATS. This now enables CoachProxy to monitor shore power voltage, real-time amps used on each 120V leg, and detection of shore power loss. In addition to displaying this information on your screen, we've added the ability to send e-mail notifications when your coach loses shore power! Unfortunately, Tiffin only included ATS monitoring on the Phaeton, Bus, and Zephyr, so other 2018 coaches will not be able to monitor shore power.
Change Log
Speaking of changes, we have a brand new page on our CoachProxy web site: the Change Log. We'll update this page as we make changes to CoachProxy software, so you'll always know what's new and improved.
What's Next?
Right now our top priority is catching up on builds and orders so we can clear out our wait list and get CoachProxy into the hands of those who have been patiently waiting for months.
Since a lot has changed "under the hood" in CoachProxy 2.0, we're also trying to get it tested on as many coach configurations as possible. Each year and model of Tiffin requires slightly different software to interface with the Spyder Controls system, making testing quite a challenge since we only own one coach–our 2018 Phaeton! We now have CoachProxy 2.0 installed on the 2015–2018 Allegro Bus, 2017–2018 Phaeton, and 2015 and 2018 Allegro RED, and have had to make a few changes based on feedback from those customers. Fortunately, Kathie and I will be visiting Red Bay in April for our 6-month repair visit and I'll be collecting data from every rig I can find, including the Wayfarer if I spot one.
As always, if you have questions or problems, don't hesitate to use our Contact Us page to get in touch. We're using a new customer ticket system now as well, so if you try replying to an old CoachProxy support ticket (one from a "@kiddbott.com" address), it won't work any more.
Can't get enough CoachProxy news? You can also join our CoachProxy Facebook group to get more frequent, more casual updates, and to chat with other CoachProxy customers.
Until next time, thanks for your support, and safe travels!
Mike