So much has happened since our last news update in late February, it's hard to decide where to begin! Most importantly, we caught up on the wait list and have built plenty of extra inventory to handle new orders. Whew! With that out of the way, a great deal of time and effort has been put into improving the underlying CoachProxy software to make future features easier to develop and deliver.
CoachProxy 2.1 – Self Configuration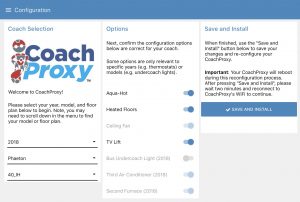 On April 1 (no fooling!) CoachProxy software version 2.1 was released. This was a major update that added a new self configuration system into CoachProxy. Previously, each ordered CoachProxy needed to be manually configured before shipping, to add the correct lights, features, and options for the customer's coach. This was a time-consuming and error-prone process, and once configured, that CoachProxy would only work on the coach it was built for.
With the new self-configuration system, all CoachProxy units are shipped with the same software, and the customer selects their year, model, floor plan, and options the first time CoachProxy is turned on. CoachProxy rebuilds its software configuration and in a few seconds is ready to go! Best of all, when moving CoachProxy to a new coach, a customer just updates the year, model, and floor plan to reconfigure CoachProxy for their new rig.
There were of course several other improvements along the way: Aqua-Hot engine pre-heat control and door awning control for 2018 coaches, a bar chart visually showing tank levels, support for 2018 RED, Breeze, and Open Road thermostats, additional lighting controls for the 2018 Bus, and a sprinkling of bug fixes.
CoachProxy 2.2 – Automatic Updates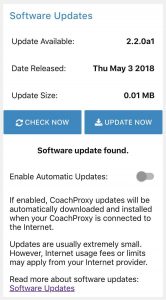 On May 8, version 2.2 was released. Another major update, it includes a new automatic software update system. Once version 2.2 is installed, future software updates can be easily and quickly installed as soon as they are released! Software updates are tiny in size (usually less than 1 MB), but customers with limited Internet bandwidth can choose to turn off automatic updates and perform updates manually with the click of a button.
Since older versions of CoachProxy don't include any kind of software update functionality, users wishing to upgrade to version 2.2 will need to do so manually. This requires removing CoachProxy's memory card, downloading a 600 MB file on a computer, and installing the file onto CoachProxy's memory card. Full instructions are available at Re-Installing CoachProxy Software Image for those who are interested. We recommend using a spare microSD card the first time, so that you can re-install your original CoachProxy memory card if something goes wrong with the install process. Once you are satisfied with the new software, you can install it onto your normal CoachProxy memory card.
For those who want to upgrade to Version 2.2 but don't want to download and install the new software manually, we can ship you a new memory card with the latest software pre-installed, for $14.95.
Of course, if you are happy with your current CoachProxy software, there's no need to upgrade! Your current software should continue working indefinitely.
As usual, there were also a few smaller improvements and fixes included in version 2.2, such as motorized windshield shade controls for the 2018 Phaeton. You can learn about the changes included in each new version on our Change Log page (always available in the "About CoachProxy" menu at the top of our web site).
Coachproxy 2.2.1 – Amazon Echo 2 Integration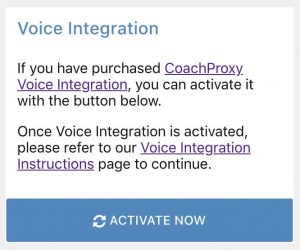 Today, May 17th, software version 2.2.1 re-introduces support for Amazon's "Alexa" voice integration add-on! If you have been waiting to purchase this feature, please review our new Alexa Voice Integration Instructions page to be sure you understand the networking requirements and supported features. After you have upgraded your CoachProxy software to version 2.2.1 and configured your CoachProxy with a static IP address, you can purchase the Voice Integration add-on from our store and activate it immediately. If you experience any difficulties, please contact us and we'll try to help.
Version 2.2.1 also includes a complete re-write of CoachProxy's window shade and door awning controls. Most of these changes should be invisible to users, but do contact us if anything isn't working as expected. The most visible change is for the 2018 Allegro Bus: grouping related shades together (e.g. "Cockpit Shades" vs. "Main Shades") and new controls to raise or lower the shades in each of those groups.
Future Roadmap
So what's coming up next? Check out our Roadmap page to get a sneak-preview of what else is in store!