Description
CoachProxy is a simple, intelligent interface for operating your 2015 or newer Tiffin coach from any web browser. With your phone, tablet or computer, you can easily control your coach while you're inside it. With our optional Remote Access service and an internet connection in your coach, control is possible from almost anywhere! CoachProxy allows access to practically every feature of your coach that is on the Spyder Controls Multiplex System.
For complete details, including a list of features, please visit the Introduction and Details pages.
With the purchase of CoachProxy, you will receive one month of FREE Remote Access Service.  Once you receive your CoachProxy device, come back and purchase the 'Remote Access Service' to start your FREE Month.  After the free month, remote access is only $4.95/month and can be canceled and restarted at any time.
Features Enabled
CoachProxy typically is delivered with the maximum feature set enabled for your coach model. Due to variations across floor plans and options, not all controls may be usable in your coach (e.g. floor heat controls if you did not order heated floors).
Remote Access / Notification Requirements
Remote Access Service and Email Notifications require that both your CoachProxy device has access to an Internet connection.  To control CoachProxy Remotely, your controlling device (Phone, Tablet, Computer, etc) must also have internet access.  Your carrier's data access rates may apply.
CoachProxy is not able to use Internet connections which have a sign-in page (commonly found on Campground Wi-Fi).  In order to use these types of connections, you must have a Wi-Fi repeating device inside your Coach and have signed into the Wi-Fi network via another device on this repeater.
Compatibility
CoachProxy requires a Spyder Controls enabled coach (sometimes called Multiplex Lighting).  Please ensure that your coach has a control panel similar to the ones below.  Also, note that CoachProxy can only control items which are present on the Spyder Controls panels in your coach.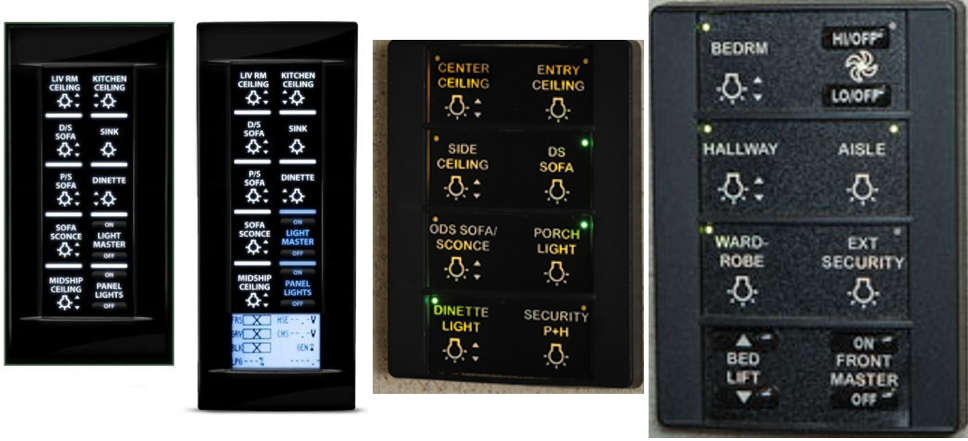 Documentation
Please read the 'Quick Start Guide' for instructions on installing CoachProxy and connecting it to your WiFi network.