Description
CoachProxy is a simple, intelligent interface for operating your 2015 and newer Tiffin Motorhome from any web browser, whether that's your Phone, Tablet or Computer and is capable of doing this from anywhere you may be, on any number of devices! CoachProxy scales to match the device screen size to allow rapid access to practically every feature of your Coach that is on the Spyder Controls Multiples System.
For complete details, please visit the Introduction and/or Details pages.
With the purchase of CoachProxy, you will receive 1 Month of FREE Remote Access Service.  Once you receive your CoachProxy device, come back and purchase the 'Remote Access Service' to start your FREE Month.  After initial 1 month period, remote access is only $4.95 / month and can be canceled and restarted at any time.
NOTE: Features Enabled
CoachProxy will come with the maximum feature set enabled. Due to variations across year, model, floorplan, and selectable options, all visible controls may not have an impact on your coaches operation. Once you receive CoachProxy and have placed it online, please contact us and we will gladly customize the interface to your coaches features as needed
Remote Access / Notification Requirements
Remote Access Service and Email Notifications require that both your CoachProxy device has access to an Internet connection.  To control CoachProxy Remotely, your controlling device (Phone, Tablet, Computer, etc) must also have internet access.  Your carrier's data access rates may apply.
CoachProxy is not currently able to use Internet connections which have a sign-in page (commonly found on Campground Wi-Fi).  In order to use these types of connections, you must have a Wi-Fi repeating device inside your Coach and have signed into the Wi-Fi network via another device on this repeater.  Please feel free to Contact Us if you have any questions on this subject.
Compatibility
CoachProxy requires a Spyder Controls enabled coach (sometimes called Multiplex Lighting).  Please ensure that your coach has a control panel similar to the ones below.  Also, note that CoachProxy can only control items which are present on one of the Spyder Controls panels in your coach.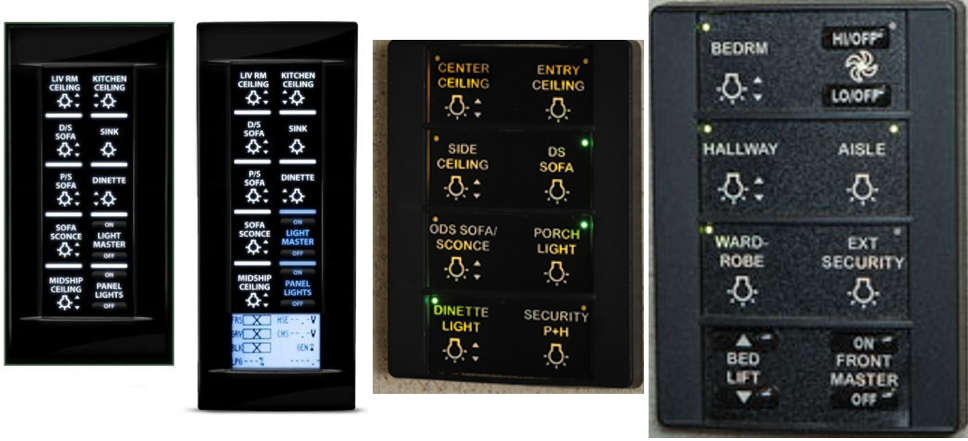 Documentation
Please don't forget to check the 'Quick Start Guide'!  Also, in the 'Product Documentation' section on the left, you'll find a promo sign 'Ask me about CoachProxy'.  This was requested by current owners who want to show off their new Coach Controls!